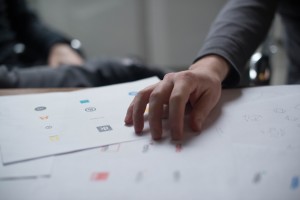 Logos convey everything there is to know about your orthodontic practice. Keep reading to find out if your logo is saying the right things about you to your potential patients.
I Am a Professional
When an amateur designs a logo, it looks cheap and gives the impression that your practice isn't making much of a profit. No one wants to be a patient at an unsuccessful practice.
When you get a professionally designed logo you show that you are a capable, successful professional.
I Know What My Brand Represents
Your logo is a symbol that represents your brand and is meant to make someone instantly think of it. When you see your logo, does it convey that your practice offers speedy service, is forward thinking, or that your office likes to have fun? Whatever the philosophy of your brand, make sure it's being conveyed in your logo.
Be sure to have font and color consistency across all marketing and media platforms, such as on your business cards and direct mail postcards, in your emails, and on every page of your website. Don't assume a color or font match is "close enough." It must be an exact match.
The closer your brand is to the truth, the better. If your logo represents the reality of your brand, it will strengthen it.
I Understand My Target Audience
Take a look at your services and current patients to help you decide who will be viewing your logo. If you cater to young families, you might want to have a design the is colorful and fun. If your target patients are older and are looking for a more serious practice, your logo should have colors that are a bit more subdued and a classic font.
Another thing to keep in mind is that it's not a good idea to have an overly feminine or overly masculine logo as this may alienate half of your potential patients.
I Am Current
Being current is different from being trendy. Trends come and go and are out of style quickly. You want to convey long-lasting relevancy.
To remain current, a logo should be:
Timeless
Simple
Memorable
Versatile
Appropriate
Other considerations are:
How can it be manipulated and abbreviated to accommodate digital media?
How does it look in black and white?
Can it be animated?
I Am Unique
What makes your practice different from all the others? Are you open in the evening or do you have weekend hours? Do you have the latest technology and equipment? Whatever sets your practice apart, reflect it in your logo design.
How can you reflect uniqueness in a logo? First of all, never use a predesigned logo and avoid clichés. Always get a logo designed from scratch using a custom font. Just following those two tips will give you a logo that is special and instantly recognizable.
Now that you know how logos convey different messages, how does yours represent you? If you find that it doesn't say what you want it to say, consider making a slight change. Take care, however, since your logo is so closely connected to your brand. Be sure the changes are necessary, will eliminate a dated look, and will increase recognition so that you'll have a winning design.