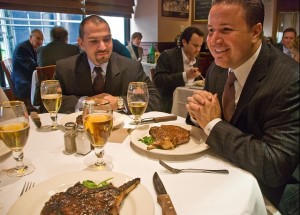 Referral marketing is the lifeblood of any successful orthodontic practice. Like other dental specialists, your relationship with your current patients typically only lasts as long as their treatment does, and your practice relies on a constant inflow of new patients to remain profitable. Local dentists play a big role in this by referring patients to you for specialized orthodontic treatment. These types of referrals typically don't just happen by chance, however. Usually it's the result of an orthodontist who has both built a relationship with that particular local dentist, and also demonstrated expertise in treating their patients.
Establishing and maintaining good relationships with local dentists can result in hundreds of new patients each year that you may not have received otherwise. What is even better is the relatively low cost of acquiring these types of referrals. In fact, the cost for this type of referral marketing involves more time, thought, and effort than monetary funds in most cases.
Even though by law you aren't able to offer local dentists a financial incentive for patient referrals, there are still several things you can do to both build and maintain a great relationship with dentists and their office that increases their likelihood of referring patients to your office. Here are a few ideas:
Visit Their Office
Making the time to show up in person at a referring dentist's office goes a long way in showing the effort you're making to not just build a relationship with the dentist, but also the staff. Take cookies, treats, or lunch with you and utilize the time to build rapport with the hygienists and office staff, not just the dentist.
Take Them to Lunch
Most orthodontists know that one-on-one time with referring dentists is important, but the difficult factor is finding the time to do it. Remember that if time is money, a scheduled lunch will be a worthwhile investment that can bring continued returns. Don't make this lunch all about business, though. Get to know them as a person first and let the business conversations follow naturally.
Tickets to Events, Sports, or Movies
Giving your referring dentists tickets to sporting events, concerts, or movie premiers are not only a nice gesture, but they can also be a good excuse to interact with them, their family, or members of their staff in an out-of-office environment. Whether you join in on the event, or simply offer the available tickets to the dentist's team, everyone appreciates complimentary access to entertainment.
Make the Most of Holidays and Birthdays
The holidays are a great excuse to send special treats or gift baskets to your referring dentist's office. If you know when the dentist's birthday is, or even the birthday of the dentist's office manager, it can be another opportune time to send a unique gift or treat. Including a hand-written note with these can really add an extra touch.
Send Thank-You Notes
It's important that the dentists you work with know that you appreciate the patients they refer to your practice. Start a new habit of sending a photo of the dentist's patients that you bond or de-bond, along with a quick thank-you note that expresses your appreciation for their referral and the chance you have to treat the patient together.
Going the extra mile to treat your local dentists well can add a lot to your bottom line in terms of new patients. Following a few of these tips to increase your number of referral patients will be a valuable addition to your marketing mix.