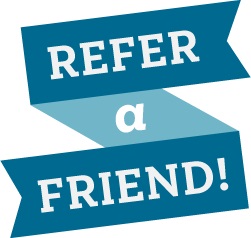 Word of mouth marketing has evolved quite a bit in the past few decades, and today it doesn't just refer to people talking face-to-face. Rather, word of mouth marketing oftentimes takes place on social media as more and more people use that as their preferred way to communicate. But however it happens, word of mouth marketing is one of the most effective tactics for your orthodontics practice. In fact, studies show that word of mouth is the most influential driving force of consumer's purchase decisions, outranking website information, emails, and online reviews.
So how do you make word of mouth marketing work for you? Here are some tips:
Create an Incentive for Patient Referrals
If you already have a large base of happy patients, odds are that they wouldn't hesitate to say good things about you to their friends and family. Sometimes they just need an incentive or a reminder to do so! Creating ongoing in-office incentives for referrals can remind patients each time they visit to spread the word about your practice in hopes of winning the incentive.
Incentives can be individually based or group based, depending on what you think will better motivate your patients. For example, you may want to offer things like a free gift card for anyone who refers a patient who comes to their first appointment. Or you could organize a bi-annual or annual drawing for a big prize like a TV or iPad that includes all the names of patients who successfully referred other new patients. Either option is a fun way to get patients involved and excited about spreading the word about your practice.
Hold Patient Appreciation Events
Hosting patient appreciation events that would also be attractive to the general public can be a great way to encourage patients to bring their friends and family to get some face-to-face time with your doctors and staff in a relaxed and casual setting. Typically events like this include free food, activities, and usually raffles for enticing prizes. You may want to incentivize patients to bring more friends and family by giving them an extra raffle ticket for each additional person they bring to the event.
Make Little Differences Count
Sometimes the spark that makes patients excited to talk to their friends and family about your practice comes from the little details that make the biggest difference in their experience. Think outside the box to offer "creature comforts" or services that patients don't usually see or experience at a typical orthodontist's office. This could be anything from a super interactive waiting room for kids to smaller details like making warm blankets available to patients during their time in the chair. Find something that will stand out to your patients, and offer it in the very best way possible.
Making a few small changes or incorporating some of these new ideas into your regular operations can mean the difference in hundreds or even thousands of new patients each year for your practice. And when studies show that word of mouth referrals are some of the most reliable you can get, you can't afford to not encourage them as much as possible.