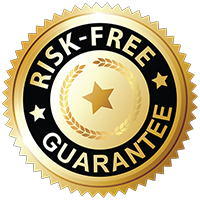 OrthoMarketing.net guarantees that your practice will receive enough new patient calls or new patient value to return the money you spend on your first three mailings. If not, we will mail your fourth mailing for FREE!".
It's meant to make sure you come out ahead on every mailing cycle so you don't have the stress of risking your marketing dollars. If the USPS loses your mail or you just don't get hardly any calls and we can't make that up with the other 2 mailings in your cycle, then we do a fourth mailing for you for free. Over the last decade, I've actually never had a practice that qualified for a free mailing that didn't come out with revenue of at least 2 times what they invested in postcards.
This may be more detailed than you were looking for, but here's how we determine if a mailing cycle qualifies. We use three low ball variables on the practice's side of the equation. One is a below average 55% closing ratio of calls being scheduled as consults, a minimum case value of a new start of $4000 and a treatment plan acceptance percentage of 60%.
For instance, on a 10k mailing cycle of 3 mailings we guarantee to get you a bare minimum of 12 calls that at a 55% close would be 7 consults which at a 60% treatment acceptance would be 4 new starts. At $4000 per case that would be $16,000 on your $12,870 investment. If we didn't meet that we would do a 4th mailing for free. The Risk Free Guarantee won't make you rich, but it will insure that you make money on your investment every cycle!